Friday Night Out!
Published Sunday, June 19, 2005 by lecram sinun |
E-mail this post


---
The night began at Full Circle Brewery where we drank freshly brewed beers and experienced both the All Too Real Players and the jangly pop of Trike Shop. Even SSM put aside his homicidal weekend schedule to join in the fun. The turnout was low but fun was had by all. JunkPuppetry, the moanful wail of the theremin, beers and easy fellowship... all ingredients for the begining of a fun evening.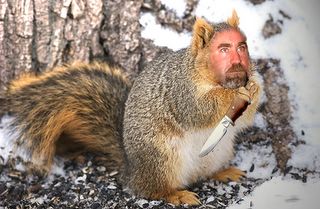 the true nature of SSM unveiled

We then moved the party to an "event" over at the 3 Brush Gallery (which was conveniently located across from Fresno Community Hospital.) The place was peppered with the young and beautiful. The DJ was spinning ambient cool as fire dancers performed in the parking lot below. There was a cover charge but also an "open bar." After a while of kebitzing and being cool we collectively decided to have a nightcap at Livingstone's.
The crew sucking on booze at 3 Brush

Somehow SSM lost his way but we ended up having a good time despite the fact that the the joint was hopping from overflowing late-nite crowd. This just goes to prove that Friday Nights in Fresno can be fun.