4th of July, 2005 in the big "NO"
Published Tuesday, July 05, 2005 by lecram sinun |
E-mail this post


---
The grilled was fired at 3 PM. The insanity was that it was already 95 degrees outside ... and climbing. The food included, grilled salmon, various salads, sausage, bread, grilled veges, chow fun, roast chicken... and lots more. Fireworks, fun, fire-dancing, 2 Karens, drinking, fellowship, the devil's brew, pyros. People came went and returned. I got to bed at 4 AM. I'll let the pictures speak for themselves.
Char Kuey Teow... or as known in these parts Chow Fun.

"Damn that Devil's Brew! Now my toes are on fire!

Seric's beer commercial "This shits good, eh..."

The 2 Karens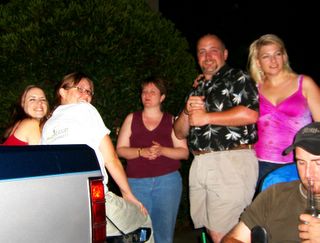 Gang at truck watching Seric blow his own bottle

the pooch got into the devil's brew

SSM performing a fire-dance

jade joins the fire-dancing


the group