barking dogs and devices
Published Wednesday, March 22, 2006 by lecram sinun |
E-mail this post


---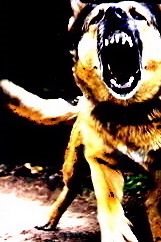 barking dog - not mine

My dogs have been at it lately so, yesterday I had to go out and get a couple of anti-barking collars. Decided it was time before the neighbors organized a lynching party in my honor. Got one shock collar and one spray collar. Figure I'd rotate them just to keep the pooches guessing which they are gonna get. I may even get a sonic collar next week just to complicate the equation in their doggy minds. But these are only for the night-time... the day time they will be collar-free!
Went over to my coffee haunt this morning with
Kien
. None of the usual suspects were there. Actually it was a refreshing change to sip on the java without talking and having to listen.
more later...
it's later...
I'm making my students watch
The Medici: Godfathers of the Renaissance
. I love PBS. I keep telling my students that watching PBS is a free education. Of course, they would rather hang with their homies in the hood discussing how much of a badass
Tupac
was when he was alive... or how the new "beats" they kiped are gonna make them tons of money. I suppose they would rather not become a font of useless information like me.
Hmmm... you know that song from "
West Side Story
"... "
Something's Coming
"... I just kinda feel like that today. I'll just have to restrain myself for the rest of the day from snapping my fingers while walking down the street. LOL!
EDIT:

I want to know when blogger is going to fix their servers. Blogging of late (especially posting pictures) has been quite the challenge of late.